Remember when we were forced to wait two long years for Rick and Morty to return after season three? The drought drove some of the fanbases to some pretty dark depths, but thankfully, we won't have to wait as long for the next chapter.
When Adult Swim first announced that season four was happening, it also confirmed that 70 more episodes were on their way. It really doesn't get more schwifty than that.
Although the next season isn't quite ready to go yet, we actually know a lot more about it than you might expect, so prepare yourselves and squanch up as we step through a portal and reveal everything you need to know about Rick and Morty season five.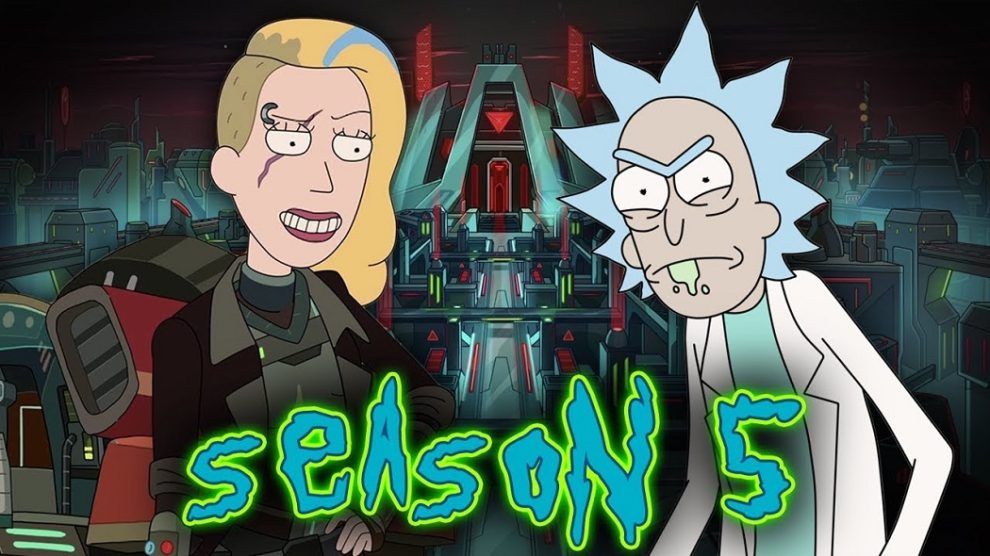 Rick and Morty season 5 release date: June 2021
This one's easy: The trailer released March 30, 2021,
confirms that Season 5 premieres June 20, 2021, at 11 p.m. Eastern on Adult Swim. So Rick and Morty is sticking to late-night Sundays. Comprising of 10 episodes, it's not yet known if the new season will air consecutively or, like season 4, be broken into two. More on that as we get it.
Is There A Trailer For Rick & Morty Season 5?
Of course! On March 30, 2021, Adult Swim released the first official trailer for Rick and Morty Season 5. It makes for interesting timing considering Season 3's surprise debut on April 1, 2017 — April Fools' Day — with "The Rickshank Rickdemption." The end of March and the beginning of April is officially a major week for the show, especially when we remember that the trailer for the back-half of Season 4 debuted on April 1, 2020.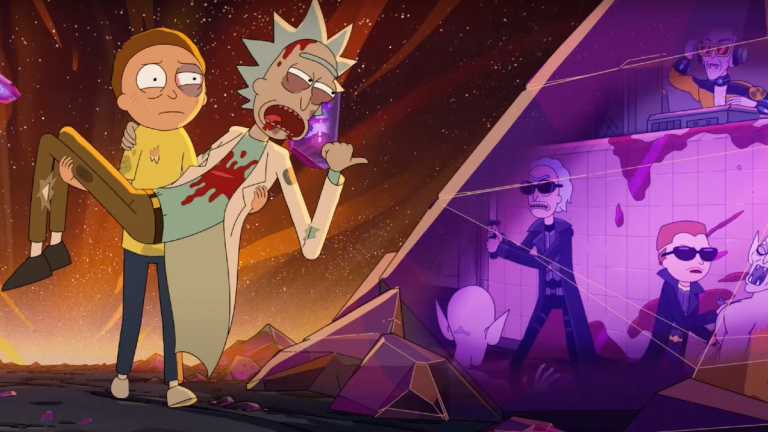 What will happen in the next season?
Thanks to the trailer, fans currently have a sense of the adventures Rick & Morty will have in season 5.
Rick and granddaughter Summer have a hilarious fight over the phrasing of that old horror-movie cliche: "It's quiet. Too quiet." Some kind of sea lord pulls his dolphin-drawn, octopus-driven carriage up to Beth & Jerry's house. The family ends up dressed like Power Ranger-type superheroes, all in different-colored costumes, ziplining through futuristic metallic tunnels. Morty gets punched in the face by a weird dog-looking alien. You know, typical stuff in the Sanchez-Smith household.
Want more? Back in September 2019, show writer Jess Loveness tweeted a photo showing some scripts he wrote for the show. One of them is Episode 501, which would mean it's the first episode of the fifth season. Loveness blacked out the episode titles, but some fans have been trying to guess. If you're really good at decoding Sharpie scribble, have at it.
This one's easy: The trailer released March 30, 2021, confirms that Season 5 premieres June 20, 2021, at 11 p.m. Eastern on Adult Swim. So Rick and Morty is sticking to late-night Sundays.
How Many Episodes Will Be In Rick & Morty Season 5?
We can safely assume that Season 5 will be 10 episodes long like most previous seasons.
In a September 2017 interview with Entertainment Weekly, Dan Harmon admitted that the original plan was for Season 3 to be 14 episodes long, but creative struggles compelled them to make a "finale-ified" version of Season 3, Episode 10 instead to cap the season. Given the rounded number of 70 episodes Adult Swim ordered, and the fact that Season 4 is also 10 episodes long, we're probably looking at even six more seasons that are each 10 episodes long.
In that same EW interview, however, they offered a hint that future seasons could be longer than 10 episodes.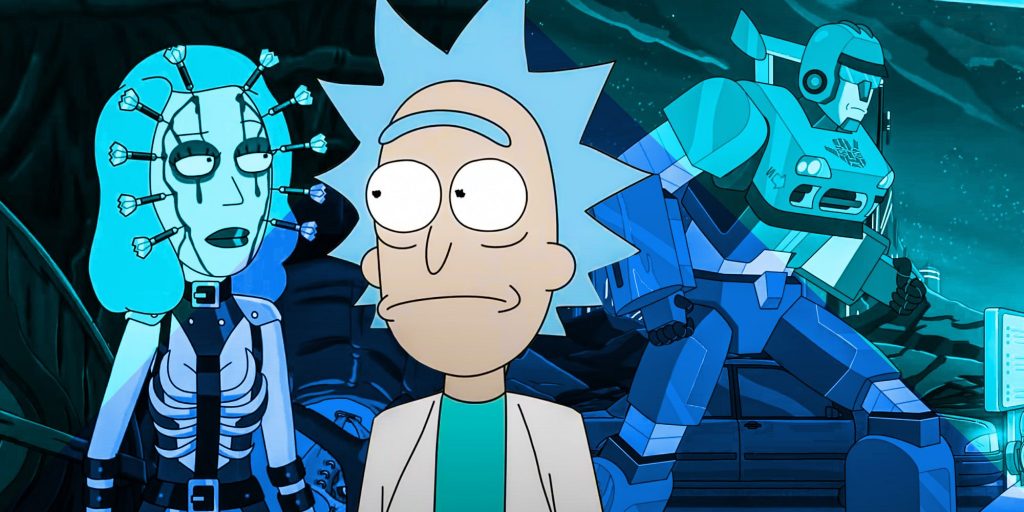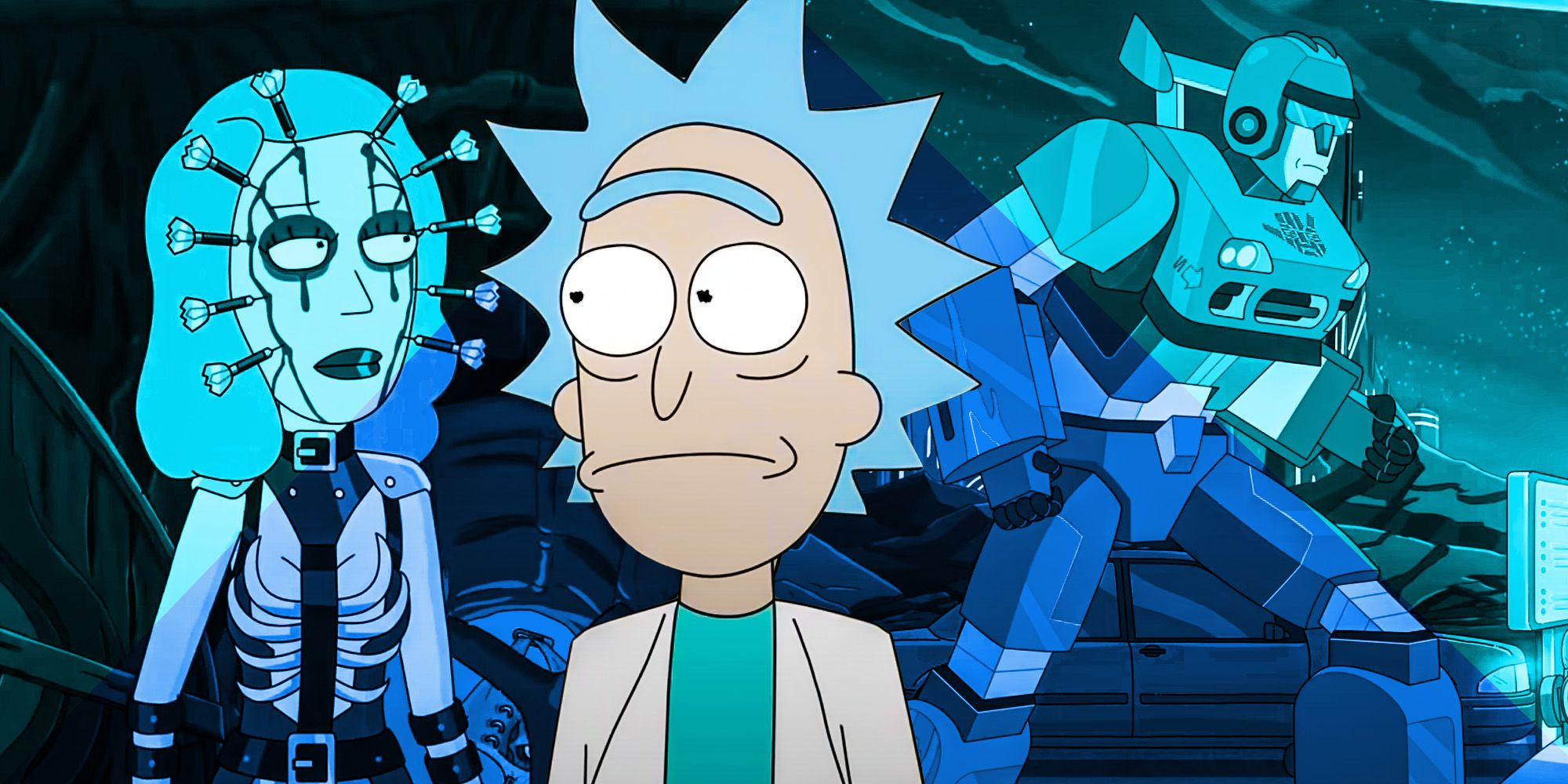 Rick and Morty season 5 cast:
The regular voice cast is all set to return in season five, even if they do have to build duvet sound-booths to do it.
This means that creator Justin Roiland will have his hands full again, voicing the titular characters Rick and Morty. Chris Parnell will tackle Jerry, Sarah Chalke from Scrubs will play Beth, and Spencer Grammer will round out the Smith family in the role of Summer.
Roiland will probably voice Mr. Poopybutthole again as well, lending credence to the idea that our little yellow friend may actually be a Morty from another dimension.
How can I watch Rick and Morty seasons 1-4?
Seasons one to three of Rick and Morty are available to watch on Netflix, and also air in the evenings on E4.
Season four aired exclusively on E4 at 10 pm on Wednesdays with the new episodes then made available to stream on All4.
It then joined the earlier episodes on Netflix, arriving on the streaming platform on Tuesday 16th June.
And if you want to get another fix of the time-traveling pair before the next season airs, a new short recently debuted – inspired by anime but otherwise very much showcasing the Rick and Morty than we've come to know over the last four seasons.
I suppose that, in a world where excessive, ceaseless demand can result in the release of the Snyder Cut among other things, it should come as no surprise that the makes of Rick and Morty would eventually catch up with the patience of their most eager fans. I, however, am just happy to know that there are still plenty of adventures to come from one of the best sci-fi TV shows out there, which is not something often said about an Adult Swim comedy. Wubba lubba dub dub!